raising awareness & support
---
client
Royal Alexandra Hospital Foundation
sector
Non-Profit
project
Foundation Annual Reports
services
website / design / marketing
The Royal Alexandra Hospital Foundation provides life-changing philanthropic support for all medical excellence centres within the Royal Alexandra Hospital. The Royal Alex is home to the Lois Hole Hospital for Women, the CK Hui Heart Centre, and the Eye Institute of Alberta — each of these centres of excellence house many devoted doctors, nurses, frontline staff, and administrators doing vital work to ensure we as a community have the medical support we need. These areas of care denote a natural section structure for the reports which allow each department's statistics, financials, and most importantly, success stories to shine.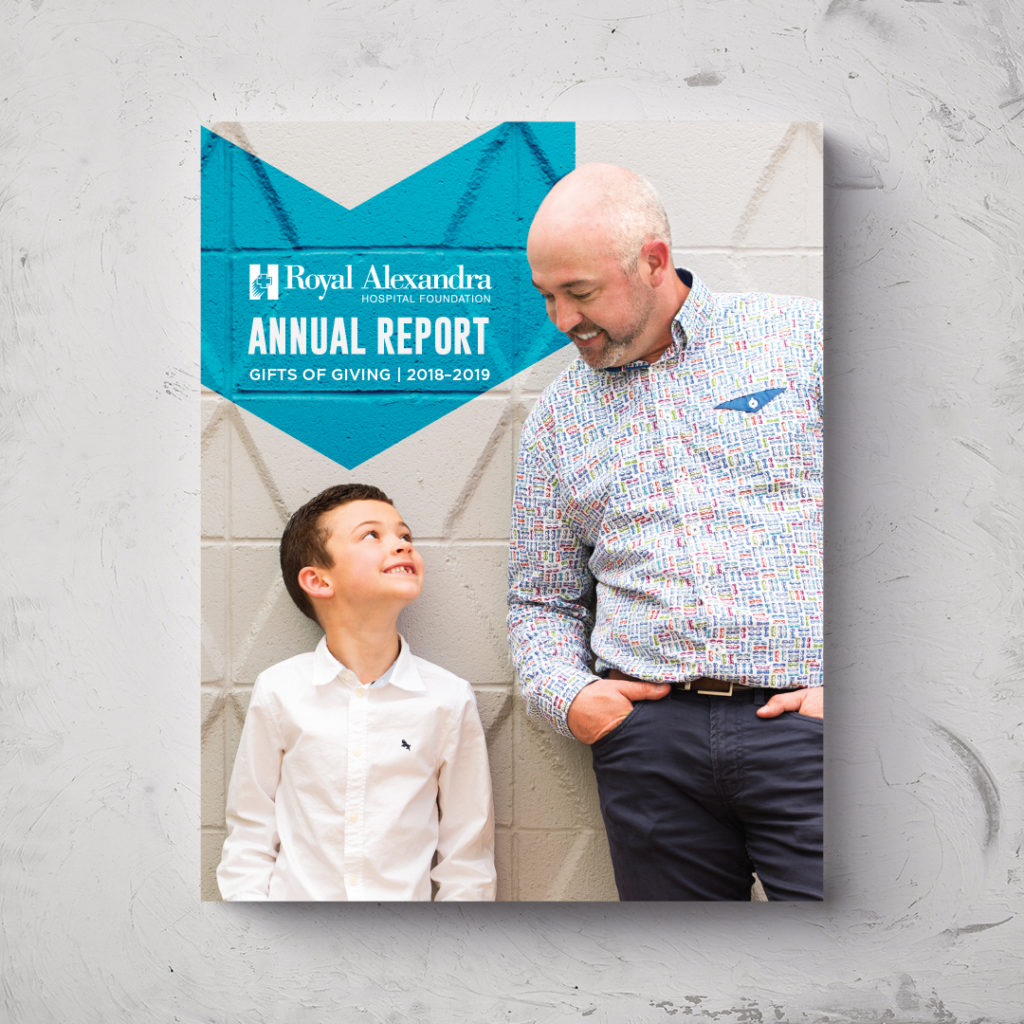 Traditionally these reports are printed and mailed each year to Royal Alexandra Hospital Foundation donors; however, the onset of COVID-19 in early 2020 forced us—like many others—to move to an online format. Choosing to make this a positive, both teams embraced the digital format and leveraged the benefits of creating animations, vibrant graphics, and incorporating video for a more interactive experience.
For the 2018–2019 Annual Report, the ANVL design team developed a graphic system based around the form of a cube to derive parallelograms, hexagons, and other angular shapes to act as enclosures, highlights, outlines and blocks of colour. These shapes define many areas and aspects of the report, allowing for images, statistics, and pull quotes to shine individually and flow throughout the piece.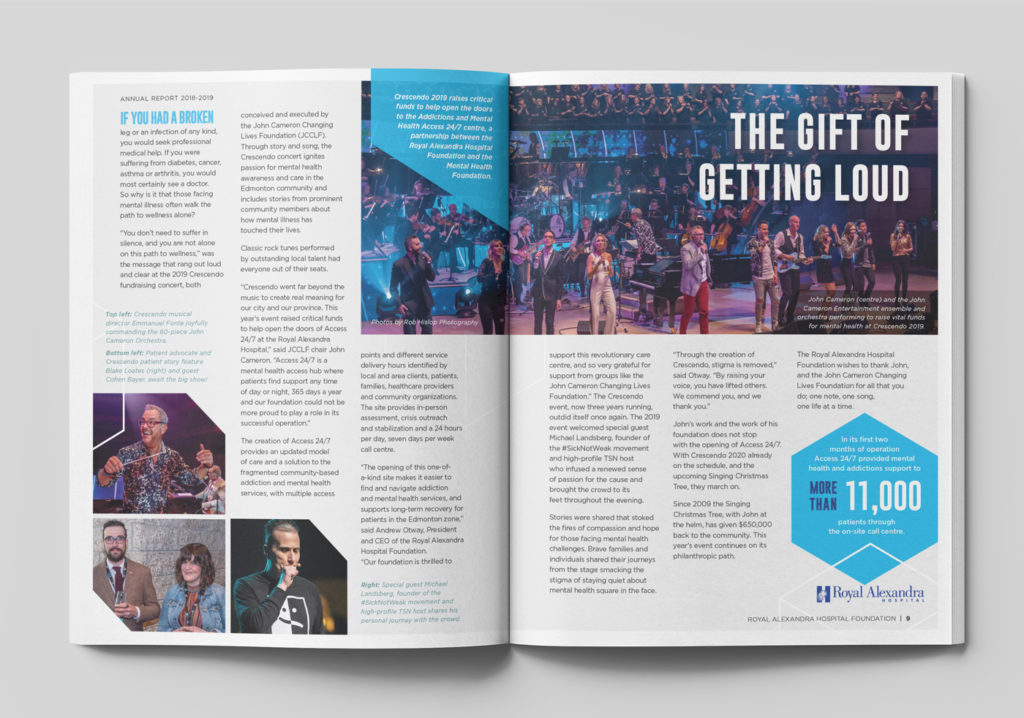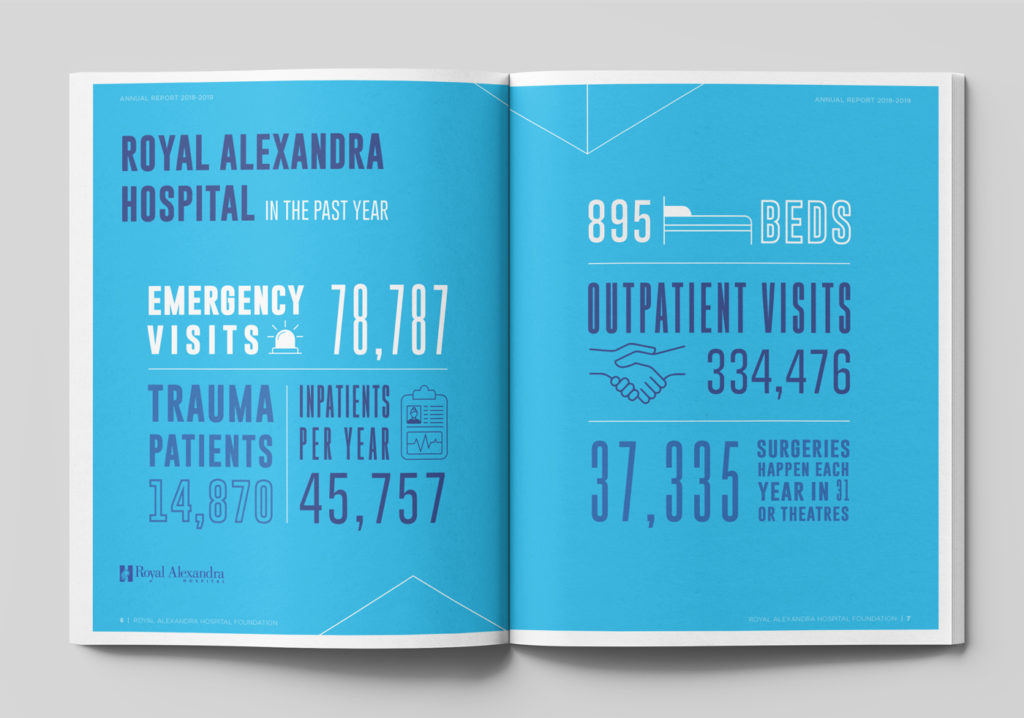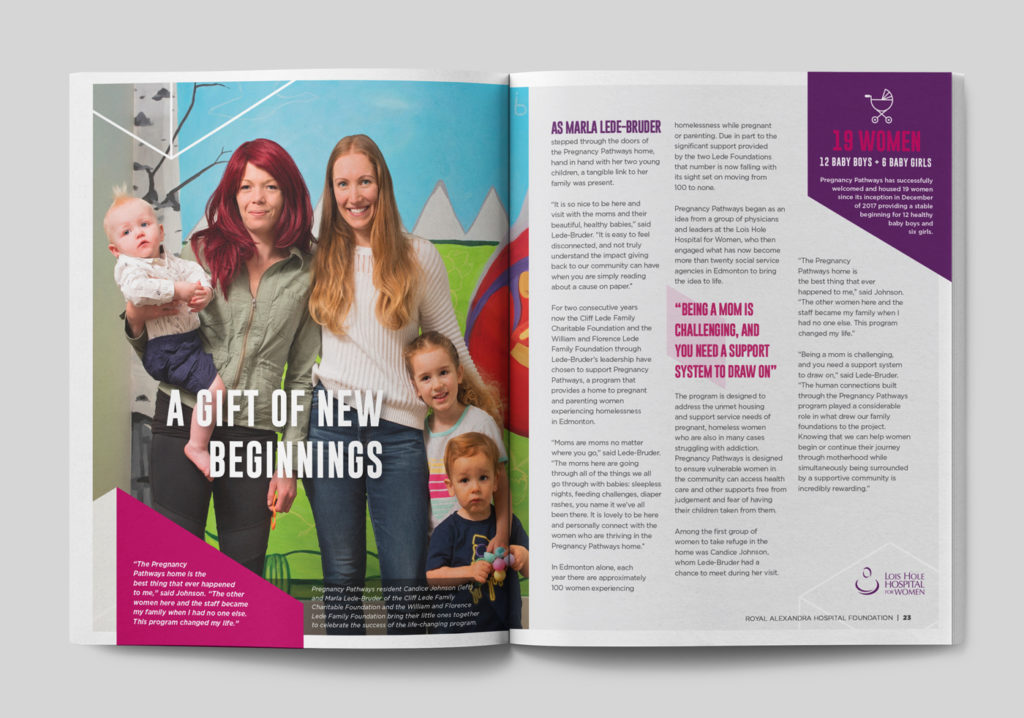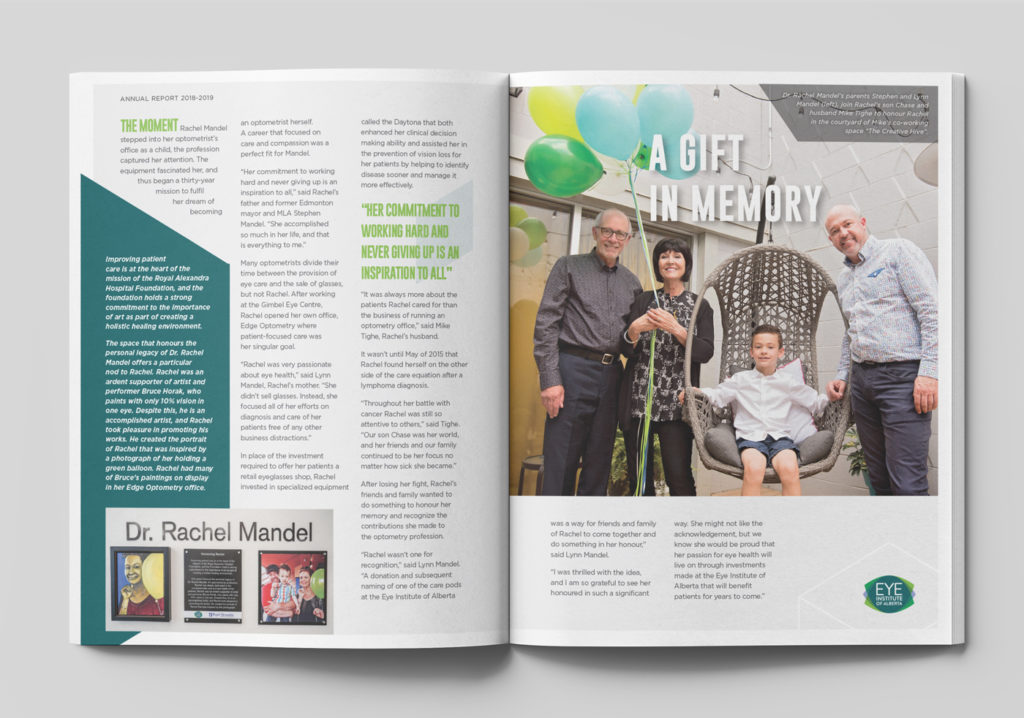 2019–2020 Annual Report
Delivering the 2019–2020 Annual Report in a purely digital format, the report embraced bright colour, animation, video, and a fluid layout to tell the year's stories. The theme — the Evolution of Healthcare — speaks about the changing needs of health care in Alberta due to COVID-19, and how health practices that may be considered 'basic' still need support. In many cases, now more than ever.
For us and many, 2020 has felt like a work in progress for those living through it and this seemed like a suitable visual — hastily made brush strokes, trying to keep up with the evolving environment — to help paint a picture of the health care landscape we find ourselves in. As always, people are the main focus of the story we are telling. Fantastic photography by Christy Dean Photography — shot under stringent COVID guidelines — bring the stories to life and showcase the dedication and bravery of both staff and patients alike.
We encourage you to view the Annual Report at rahfannualreport.com — and while you're there, feel free to make a donation.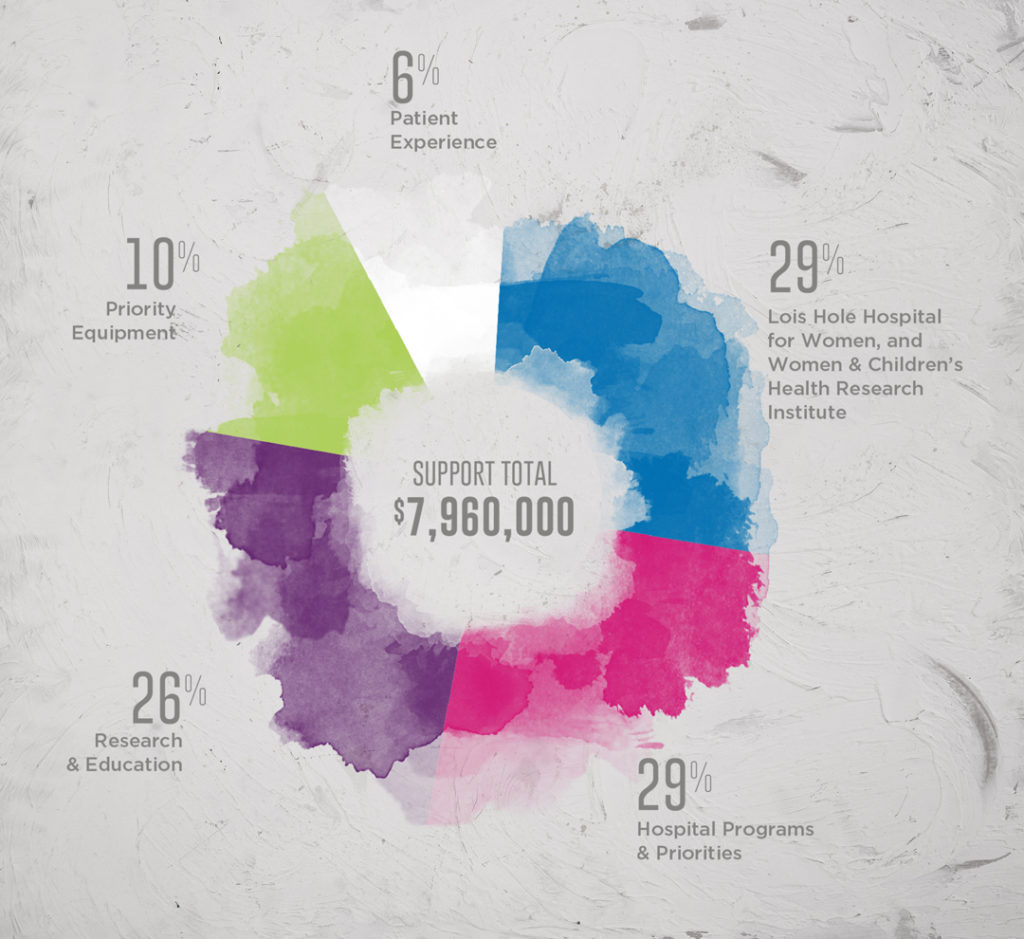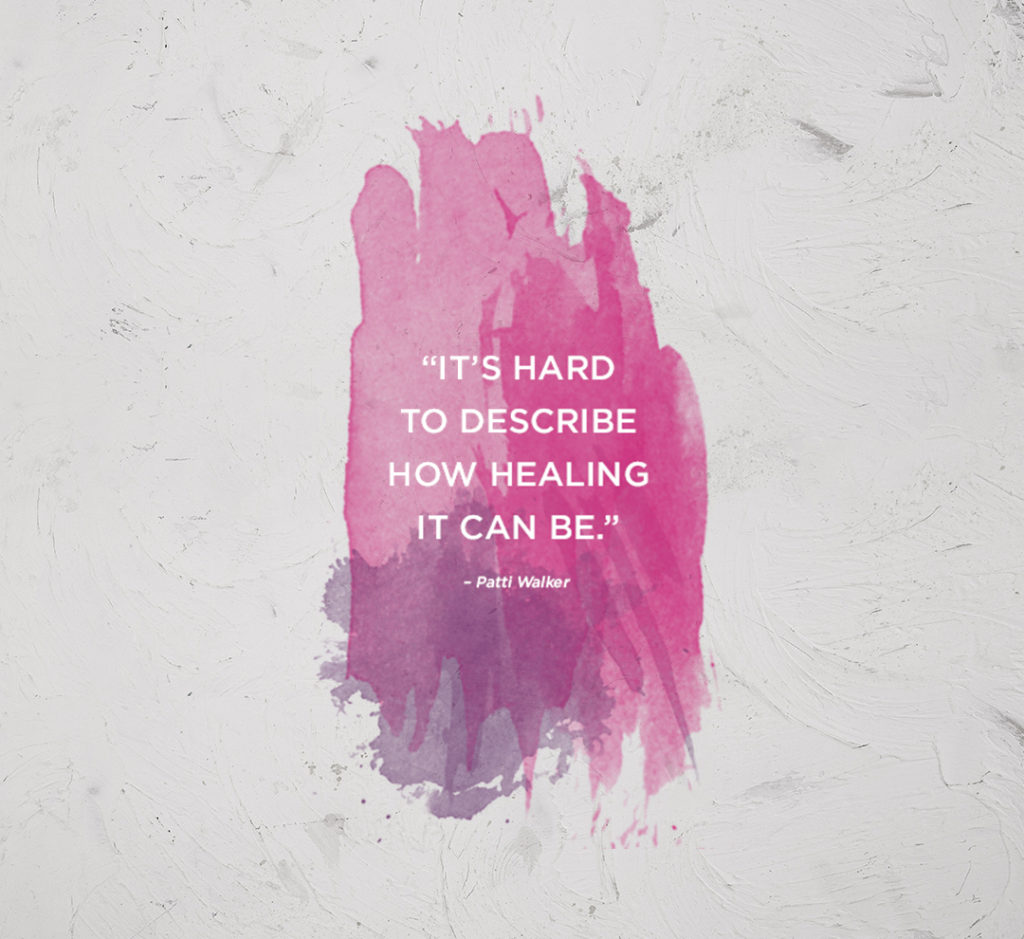 The animated stats for each department use the interactive capabilities of the digital domain instead of more space to draw the viewers' eye while displaying key pieces of information. These infographics are custom designed for the Royal Alexandra Hospital Foundation to not only conform to the years' theme but display 'key wins' in a dynamic and engaging fashion.